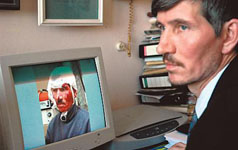 Vladimir Kozlov
Source: Helsingin Sanomat

Finnish journalist denied Russian visa (27.12.05)

Young Finno-Ugrians at the Congress of Turkic Youth (21.11.05)

International attention to problems of national minorities in the Russian Federation is not decreasing (01.11.05)

Chairman of Youth Association of Finno-Ugric Peoples attacked in Mari Republic, Russia (28.08.05)

Lusatian Sorbs express their solidarity with Udmurts (26.08.05)

Ethnic minority in Russia: media is filled with misinformation (25.08.05)

Closing of the 10th International Congress of Finno-Ugric Studies in Yoshkar-Ola (21.08.05)

Hopeless Udmurts appeal to Europe for support (19.08.05)

Russian authorities threatening an ethnic minority organisation (17.08.05)

Scientists replaced with officials at a scientific congress in Russia (16.08.05)

Tenth International Congress of Finno-Ugric Studies in Russia (15.08.05)

Estonian delegation to the 10th International Congress of Finno-Ugric Studies smaller than expected (12.08.05)

Estonian and Saami Theatres Start Co-operating with the Kalevala in Estonia (10.08.05)

An ethnographic film banned in Russia now available on DVD (09.08.05)

Doctoral scholarship in Estonia for foreign Finno-Ugrians (06.08.05)

An open letter to the President of Finland Tarja Halonen (02.08.05)

Estonian students caught in the wheels of Russia's internal politics (02.08.05)

Expulsion of Estonian students from the Mari Republic of Russian Federation (22.07.05)

The Unrepresented Nations and Peoples Organisation supporting the Mari people in Russia (07.07.05)

Ethnic minority convenes its congress in the underground (07.06.05)

Fascist group in Russia asserts being instructed by local administration (31.05.05)

Russian composer did not celebrate his anniversary in his home town (19.05.05)

European Parliament steps forth in defence of a national minority in Russia (12.05.05)

Federal Union of European Nationalities examined the situation of a Russia's minority (07.05.05)

Members of the European Parliament pass an action plan to improve the situation of Finno-Ugric minorities in Russia (27.04.05)

Finno-Ugric Minority of Russia Grateful to the European Parliament for Support (26.04.05)

European Parliament Examining the Mari Situation in Russia (11.03.05)

Opposition leaders still persecuted in Mari El: Vladimir Kozlov assaulted (04.02.05)

www.mari.ee
(information and news about Mari people in Mari, Russian, Estonian, English)

 Press releases by the Estonian Institute for Human Rights:

ESTONIAN INSTITUTE FOR HUMAN RIGHTS CALLING TO SUPPORT MARI PEOPLE

JEWISH COMMUNITY SUPPORTING THE OPPRESSED MARI MINORITY IN RUSSIA
Mari Nation Under Threat in Russia
An appeal to the authorities of Russian Federation to stop infringing on political and cultural rights of the Maris, a 600 thousand strong nation, was distributed today by a group of American, British, Swedish, Finnish, Estonian and Hungarian politicians and public figures.

They urge the Russian government to immediately stop the rising tide of discrimination and persecution of Mari nation in the Republic of Mari El, and to initiate an investigation into the assault on prominent Mari leader Mr. Vladimir Kozlov who was beaten nearly to death earlier this month. Kozlov is the editor-in-chief of an international Finno-Ugric newspaper and head of the all-Russian movement of the Mari people. The authors call on human rights organizations of the world to support the action. Everyone is called to join the appeal at the Internet address http://www.ugri.info/mari/.

Among those who signed the appeal are former speaker of the Finnish parliament Mrs. Riitta Uosukainen, former president of Estonia Mr. Lennart Meri, long-term adviser of U.S. governments Prof. Paul Goble, composers Veljo Tormis from Estonia and Kari Rydman from Finland, First Vice-President of the European Parliament Committee on Foreign Affairs Toomas Hendrik Ilves, Prof. John Hiden from Britain, and former Finnish foreign minister Pertti Paasio.

The appeal of western politicians was published on 22 February in the Finnish Helsingin Sanomat and Estonian Eesti Päevaleht, dailies with the greatest circulation. It was the reaction to a report by the Mari El Association in Moscow issued 7 February. According to the report, local officials did not even launch investigation into other similar cases of attacks on leaders of political opposition.

The association condemned the attack on Kozlov and called on Mari representatives in the Russian State Duma to take an action to stop 'the political terror' and ensure the constitutional rights to all citizens in Mari El. The report asked the international community and especially the Finno-Ugric nations of Estonia, Finland and Hungary, relatives of the Mari people, to speak out against this dangerous trend (http://www.mari.ee/eng/soc/polit/apogei.htm).

On behalf of the signatories,

Mart Meri
Editor in Chief, monthly Keel ja Kirjandus
Tallinn, Estonia
---------------------------------------------------
APPENDIX
---------------------------------------------------
APPEAL ON BEHALF OF THE MARI PEOPLE
We the representatives and friends of the Finno-Ugric peoples of the world call on the Russian authorities at all levels to take immediate steps to end the attacks on members of the democratic opposition in the Republic of Mari El. We urge international human rights organizations to join us in this cause.
In recent months, the local government of Mari El has done nothing to stop the rising tide of discrimination and attacks against the Mari people, thus creating the impression that it supports or may even be behind them. We note with regret that the authorities have done nothing to identify those who earlier this month attacked Vladimir Kozlov, editor-in-chief of the Finno-Ugric newspaper Kudo+Kodu and head of the all-Russian movement of the Mari people, Mer Kanash, beating him nearly to death.
The Mari people are an important part of the Finno-Ugric world, and this summer they are scheduled to host the next world congress of Finno-Ugric studies. Consequently, it is especially important now that the Russian authorities in Moscow and in Mari El do everything possible to end the abuse of the rights of the Maris.
21st of February 2005
Prof. Paul Goble, USA
Prof. John Hiden, United Kingdom
Toomas Hendrik Ilves, Vice-President of the Committee on Foreign Affairs of the European Parliament
Dr. Tytti Isohookana-Asunmaa, former Minister of Culture of Finland
Béla J?vorszky, former Ambassador to Finland and Estonia, Hungary
Prof. Kyösti Julku, Finland
Prof. Olavi Korhonen, Sweden
Mart Laar, MP, former Prime Minister of Estonia
Leena Laulajainen, writer, Finland
Dr. Lennart Meri, former President of Estonia
Mart Meri, Editor-in-Chief, Estonia
Pertti Paasio, former Minister of Foreign Affairs of Finland
Prof. J?nos Pusztay, Hungary
Prof. Raimo Raag, Sweden
Kari Rydman, composer, Finland
Prof. Pauli Saukkonen, Finland
Toomas Savi, MEP, former Speaker of the Parliament of Estonia
As. Prof. Tõnu Seilenthal, Estonia
Veljo Tormis, composer, Estonia
Riitta Uosukainen, former Speaker of the Parliament of Finland
Arvo Valton, writer, Chairman of the Association of Finno-Ugric Literatures
Prof. Kalevi Wiik, Finland